Back-to-Back Student Chapter of the Year Awards

Thank you to our membership, officers and the community for helping us acheive our lofty goals
.

WxChallenge will return in the Fall

Mandatory AMS Elections
Wednesday, April 30th at 8:30pm in Caputo 402
16th Annual Russel L. DeSouza Banquet
Friday, May 2nd at 6:00pm in Lehr Dining Hall
---
Dear Friends,

Welcome to the homepage of the Millersville University Chapter of the American Meteorological Society! This year we are celebrating our 27th year anniversary as a Student Chapter of the AMS. Our Chapter has significantly grown since its start in1986 and is consistently one of the largest student-run organizations here at Millersville University. MU-AMS provides our students with a close connection with peers and professors, as well as all future opportunities that lie before them; whether it is furthering their education or finding professional organizations within the field of Meteorology and all fields of Earth Sciences.
We have continued to see an increase in membership each year while gaining more participation in our outreach committee. Our Meteorology-Mentor program has become an over-whelming success over the years, helping our incoming freshmen meteorology majors adapt to college life here at Millersville University. Each freshman is paired up with an upperclassman to help them around the campus and become familiar with the meteorology department.
| | |
| --- | --- |
| Our organization's internal structure continues to strengthen thanks to our open officer meetings, which allows all members of the MU-AMS to have a voice within our chapter and see how the chapter is run in detail. All members can participate in our unique committee system (Events/Fundraising and Community Outreach) that allows our members to become more involved in planning and organizing our chapter's events. | |
Our informative and exciting Speaker Series includes speakers from the National Weather Service, private industry, opportunities at graduate schools, broadcasting industries and many other meteorology-based topics. These speakers personally come here to Millersville and are available for any questions or comments the members may have for them. The purpose of the Speaker Series is to show our members all the different exciting and beneficial opportunities there are within the field of meteorology. Students will be exposed to all different fields to further their interest within the career as a meteorologist.

As a chapter, we host our annual Public Weather Awareness Day, which has been an overwhelming success since it was implemented in 2007. We will continue to build upon our biggest community outreach event and make it bigger and better each and every year. In addition, our community outreach program reaches out to local schools so we can spread our passion for weather to the young students of our community.
In addition, we continue to receive new social events for our members by the members, and we celebrate the end of the year with the annual Russell L. DeSouza Banquet.

As President of MU-AMS, I am a firm believer in what makes every individual's future is how you prepare for today. I want to expose each student to all forms of meteorology and what this vast career choice has to offer. If you have any questions, please come to our Open Officer Meetings, or send me an email. I would love to hear your input because it makes our chapter a successful student organization.

Sincerely,



Ian Eppig
President, MU-AMS
iweppig@millersville.edu
---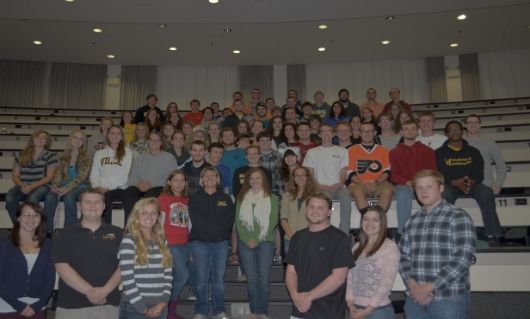 2013-2014 Millersville AMS Members

Millersville University Home | Millersville Meteorology | Campus Weather Service
Weather Information Center | Current | Streaming Video